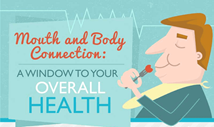 I once had a new patient come in for an emergency visit. Bob was dressed in a well-cut suit, his hair styled perfectly. It was obvious that he worked out regularly. Even his fingernails were neatly trimmed and buffed. Then Bob opened his mouth to show me the reason for his visit, and I did a double take. His gums were swollen, teeth stained with obvious plaque and tartar buildup. The source of his pain, a large abscess, was no surprise in this environment of bacteria and inflammation!
After treating the problem, I bit the bullet and asked the question that was on my mind, "You obviously care about your health and your appearance, because you look great," I began, "but if you don't mind my asking, why would you not take equal care of your teeth and mouth?"
Bob took a minute to consider before answering. "I guess it's because dentistry seems to be separate from your general health. At my physical every year, and they talk to me about my eyes, and my hearing but never about my teeth. I just never got the message that teeth and health are connected."
In more than thirty years as a dentist I've done a lot and learned a lot. But that conversation with Bob has stayed with me through it all. That's because no matter how many beautiful Smile Makeovers I do, or how many times I relieve a patient's pain, one core idea comes up again and again. What I do as a dentist has a significant impact on my patients' physical and psychological health and well-being.
Of course, riding the waves of the Covid-19 pandemic has brought this idea to the forefront even more. As we've welcomed patients back into our practice, we have treated the fallout (sometimes literal), that Covid-19 has brought to their general, dental and mental health. The damage caused by the increase in tooth clenching and acid reflux alone have demonstrated that we dentists are often the first to see signs and symptoms of bigger health problems. The pandemic has also caused fragmented sleep patterns, weight gain, anxiety, depression and cognitive changes to our patients. We see signs of all these health concerns at checkup visits.
People visit their dentist twice a year throughout their lifetime. It gives us a chance to build trust and get to know our patients. It makes them more likely to share information, and us more likely to notice changes in them. As a dentist who treats TMJ and Sleep Apnea, I get an even broader view of how dental care connects with health care in general. My goal in this, and future blog posts, is to help you understand the "mouth- body connection", and the role dentists can play in helping you look better, sleep better, eat better and feel better.
Don't be like Bob!
Now I've said a mouthful.