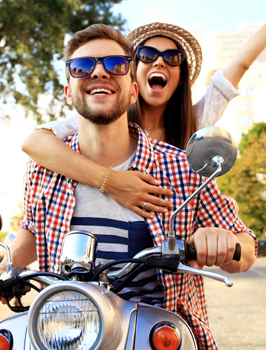 With cosmetic dentistry, you can change your story forever! Achieving your most beautiful smile can benefit you in so many ways. When you attain the smile of your dreams at Dental Design of Rockland, you can enjoy:
Increased Health | Cosmetic procedures do more than enhance your appearance. Fillings and veneers strengthen and fortify the teeth. Straight and even teeth are also easier to care for because there are fewer places for bacteria to hide. Patients with beautiful smiles suffer from less tooth decay, wear and tear, and gum disease.
Elevated Social Experience | When you feel good about your smile, you enjoy sharing it with others. You might see your social experience permanently change when you're sharing your best smile. Many patients become more extroverted and excited to socialize when they're proud of their smiles' aesthetics.
Youthful Glow | As you get older, discoloration and dental erosion can affect the appearance of your teeth. You can easily reverse the effects of aging with cosmetic treatments. Teeth whitening or dental veneers can rapidly restore your youthful look.
Superior Work Performance | Many patients have trouble maximizing their potential when they feel embarrassed about their smile. When you gain a fresh look and a bold confidence, you may notice greater motivation and self-belief, which can lead to increased work performance.
Cosmetic Treatments
Dr. Ollech would love to sit down with you and discuss your current dental concerns. She will become familiar with your dream smile and help you bring it to life.
Dr. Ollech provides:
Dental Veneers | Cover up chips, gaps, and dullness with these ultra-thin porcelain shells.
Tooth-Colored Bonding | Hide imperfections and even out your smile with just one visit to the office.
Tooth-Colored Fillings | Improve the size, color, and shape of your teeth while perfectly matching natural teeth.
Invisalign® Orthodontics | Close gaps and straighten your smile with comfortable and subtle Invisalign braces.
Botox | Discover smooth and line-free skin with Botox injections.
What will you do with your new and improved smile? Call us today at Dental Design of Rockland to set up a complimentary consultation!