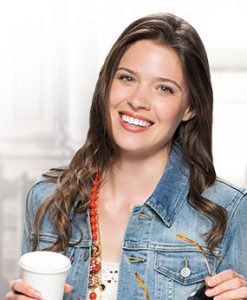 What kind of message is your smile sending to everyone around you? With Invisalign® orthodontics, your smile's story can be full of confidence and laughter.
This is an orthodontic treatment that involves a series of custom-fit clear aligners. These aligners are virtually invisible when worn, and they gently reposition your teeth until you achieve a flawless smile.
When you want to recreate your smile, it is important to choose a dentist with experience and artistry. Dr. Ollech has helped many patients improve their appearance, health, and self-esteem with Invisalign® braces.
How Does Invisalign® Treatment Work?
Dr. Ollech will ask you about your needs and goals for your smile. She will take impressions of your teeth and send them to a lab for aligner fabrication.
At your next appointment, your dentist will provide you with your first few sets of aligners and give you the information you need to wear them correctly.
Wear your aligners for 20-22 hours each day. You should remove the aligners to eat, brush, and floss.
Every 2-3 weeks, change out your old aligners with the next set. Your teeth are slowly moving into their ideal positions.
You'll feel comfortable and attractive during treatment, and you'll see stunning results in a matter of months!
Why Do Patients Love Invisalign® Clear Braces?
Invisalign® clear braces are more convenient and comfortable than traditional braces. The smooth plastic aligners will never cut or irritate the inside of your mouth. You can remove the aligners at any time, so there are no food restrictions or difficult cleanings!
Your clear Invisalign® aligners won't disrupt your look or your lifestyle. Your friends and family will hardly notice that you're wearing braces. In fact, most people will have no idea you are using orthodontics unless you tell them!
Find Out For Yourself!
Invisalign can give you a straight and beautiful smile for life. We offer a free consultation to anyone who is interested in clear Invisalign® braces. Call us today at Dental Design of Rockland to schedule your appointment!