You May Be Suffering From Sleep Apnea
Choosing the Right Sleep Apnea Specialist
Treating Obstructive Sleep Apnea involves more than simply buying a machine or getting a mouthguard. Effective treatment begins with choosing a dentist that has the proper training in Dental Sleep Medicine.
It is important that both you and your dentist can understand and recognize the signs that point to potential sleep disorders. Success also relies on having the proper systems and clinical experience needed to effectively implement dental sleep therapy.
What Do Sleep Apnea Doctors Do?
Sleep apnea dentists diagnose snoring, sleep apnea, and other sleeping disorders. They should maintain a current knowledge of emerging trends and treatments. Your sleep apnea doctor can help you create a customized treatment plan that will improve your nighttime breathing and eliminate the effects of sleep apnea.
At our practice, you can feel confident that you are receiving treatment and care from a dentist who has undergone sufficient training and has the skill set and experience necessary to help.
When sleep apnea is improperly treated, the risk of heart attack, stroke, and diabetes may increase.However, with enough sleep apnea education and continuing courses, your dentist can significantly lower your risk and promote a more revitalizing and renewing sleep cycle.
Dr. Ollech has studied with experts around the US to prepare her to best serve your needs. With extensive sleep apnea courses and years of diverse experience, our doctor is well prepared to treat your sleep apnea. Dr. Ollech understands:
The symptoms and causes of Obstructive Sleep Apnea
Diagnosing sleep apnea with sleep exams and observations
Different sleep cycles and how they may affect patients
Similarities and differences between various oral appliances
How to work with insurance companies for an affordable treatment
CPAP treatment pros and cons
Customizing oral devices to meet patient needs
Reducing sleep apnea symptoms with lifestyle changes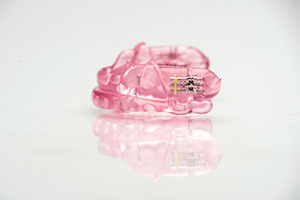 Dr. Ollech is always aware of the latest sleep apnea discoveries and research. She has close relationships with sleep apnea experts and labs across the country.
When you are seeking protection from the dangers of sleep apnea, you need a qualified sleep apnea dentist. To learn more about how Dr. Ollech can help you or your loved one with sleep apnea, call our office to schedule your consultation today.